Presenting the art of property visualization, our 3D architectural animation studio stands as the epitome of excellence in the world of visual storytelling.
Welcome to our studio, where we redefine the concept of architectural animation and bring designs to life with unrivalled creativity and expertise. As the best architectural animation studio, we pride ourselves on our exceptional team of talented artists and cutting-edge technology that seamlessly blends innovation with realism. With a passion for storytelling, we transform static architectural plans into captivating visual narratives, allowing clients to envision their projects in stunning detail. From jaw-dropping flythroughs to immersive virtual reality experiences, our studio sets the standard for excellence in architectural animation. Without a doubt, a visual representation of a property yet to be constructed is the future of the real estate industry.
Let us first introduce you to 3D Architectural Animation and how it impacts the architecture and real estate industry. 
3D Architectural Animation Services
In general, 3D architectural animation is a dynamic and immersive visual medium that utilizes computer-generated graphics to bring architectural designs to life. It involves creating realistic and detailed 3D models of buildings, landscapes, and environments and animating them to showcase architectural concepts, design elements, and spatial relationships. Basically, this form of animation allows viewers to explore and experience architectural projects from various angles, perspectives and even simulate real-world movements, providing a compelling and engaging way to communicate architectural ideas, promote projects, and aid in decision-making processes.
Overall, architectural animation entails.
Creating virtual tours to provide immersive experiences of architectural projects.

Demonstrating the integration of various design elements and materials.

Simulating real-world lighting and environmental conditions for accurate representation.

Facilitating effective communication and collaboration among stakeholders.

Enhancing marketing and promotional materials for architectural projects.

Assisting in securing funding, approvals, and client buy-in for construction projects.
Learn more about the
purpose of 3D walkthrough animation
. 
Why ArchXStudio? 
But how does ArchStudio stand out among its competitors? The use of futuristic technology and software leverages our studio to push out the best architectural visualization projects. It helps realtors bring the non-existent property to life way before they go into the construction phase. Be it virtual reality tours, landscape animation, or
architectural walkthroughs
; our studio commits to delivering the best quality animations. Moreover, the animated videos immerse viewers in the realistic experience as if the person is walking around the virtual space. In fact, the user gets to interact with the overall architecture using the interactive buttons. These buttons guide users to make and any changes they might need on the go. For instance, you can change the floor tiles, curtains, lighting, weather scene or mood of the interior space. 
Undoubtedly, our studio has become a one-stop shop for our esteemed clients. We extend our architectural visualization services in realms of 
3D interior animation

3D exterior animation 

Real-time architecture walkthrough 

3D panoramic rendering 

Motion graphics 
The best thing about architectural animation is that these virtual tours are VR compatible with complete customization. Viewers can experience the property from an ariel view, eye-level perspective or worm's eye perspective. There's no limit to what architectural animation can do. Therefore, modern society is built after a careful pre-visualization process to ensure that architectural buildings speak for themselves. Check out
how architectural animation impacts modern society
. 
The Magic of Unreal Engine
Unreal Engine stands as the best tool and technology for 3D architectural animation due to its exceptional capabilities and features. It enables architects and designers to create immersive and realistic virtual environments. Here's why ArchXStudio uses the unreal engine to bring architecture to life.:
Photorealistic Visuals:

Unreal Engine's advanced rendering capabilities enable the creation of stunning and lifelike visuals, allowing architects to showcase their designs with unparalleled realism.

Real-time Interactivity:

With its real-time rendering engine, Unreal Engine provides interactive experiences, allowing users to explore architectural spaces, change lighting conditions, and evaluate design choices on the fly.

Powerful Tools and Workflow:

Unreal Engine offers a comprehensive suite of tools for modelling, texturing, lighting, and animation, streamlining the entire production process and empowering artists to bring their creative visions to life efficiently.

VR and AR Integration:

Unreal Engine seamlessly integrates with virtual reality (VR) and augmented reality (AR) technologies, enabling immersive experiences where clients and stakeholders can walk through and interact with architectural projects in a virtual environment.

Collaborative Workflows:

Unreal Engine's collaborative features allow multiple team members to work on the same project simultaneously, facilitating efficient collaboration and iteration throughout the animation production process.

Flexibility and Customization:

Unreal Engine provides a highly flexible and customizable platform, allowing artists to tailor their workflows and create unique animations that suit specific project requirements.
ArchXStudio - The Best Architectural Animation Studio 
Over the years, ArchXStudio has evolved in all realms of architectural visualization and animation. Using the unreal engine, 3ds Max, V-Ray, Autodesk tech and tools, we have curated ultra-realistic displays of real estate projects and buildings. 
Join us on a journey where imagination meets reality, and witness the power of our animations to inspire and elevate architectural visions to new heights. Brace yourselves as we take you through the ride of our very own successfully delivered projects. 
Alwatnia Housing Society
One of the most grand 3D animation projects delivered by ArchXStudio is the
Alwatnia Housing Society Project.
Here, we take you through a mesmerizing journey of our 3D Walkthrough Animation. ArchXStudio being the best architectural animation studio, presents this architectural marvel in a captivating virtual tour that showcases every aspect of society. From landscape architecture to street views, commercial buildings to educational institutions, mosques to elevated exterior house designs, and interior architectural arrays, our expert architects and designers have meticulously crafted a photorealistic display from a bird's eye perspective. We welcome you to explore our immersive 3D architectural visualization and animation services to bring your housing society project to life. With the scenic beauty of our 3D walkthrough animation, you can attract global investors and convince their quick purchase decisions. 
Client Feedback:
"Best 3D studio. Completed our project on time and the project was approved by the directors. Will definitely use their services in future."
Check out
why landscape architecture is important
. 
Khyber Residencia Peshawar Society
Experience the breathtaking 3D architectural walkthrough of
Khyber Residencia in Peshawar
, masterfully delivered by ArchXStudio. With a focus on contemporary design, our expert team has crafted a visual masterpiece that captures the essence of this residential housing society. Immerse yourself in the virtual tour as you explore the meticulously designed houses, well-paved roads, lush greenery, and captivating day and night views. Our aerial perspective allows you to appreciate the landscape and the harmonious blend of architectural elements. With a proven track record, our skilled architects and designers are ready to bring your real estate or residential project to life. Choose ArchXStudio and witness the power of architectural animation in action.
Client Feedback:
"Very professional and reasonably priced. Used their 3D Animation services twice, and they never disappoint me. Highly recommended."
City Garden Society
One of our latest endeavours showcases the remarkable
City Garden
, a residential housing society boasting exceptional aesthetics and meticulous construction. With our team of professional architects at ArchXStudio, we have crafted photorealistic exterior 3D animations that capture every detail, from houses to mosques, markets, and commercial buildings. Our animations mesmerize clients, customers, and property investors worldwide, offering an immersive experience that allows viewers to envision their future. Indeed, the aerial views of our architectural renders are the true embodiment of the project's beauty. For that matter, realtors from around the world trust our architectural animation studio to elevate their real estate property visualization. 
Client Feedback:
"Probably one of the best 3D teams in lahore. The team is extremely responsive and they bring life to your design ideas. Would definitely recommend them to architects who are looking for visualizers that can create realistic impressions of their designs in render stills and videos and walkthroughs!"
Heaven Heights
Another great project pulled off by expert designers and architects of ArchXStudio is the
Heaven Heights
residential building that epitomizes elegance and grandeur. With our expertise, we transform architectural designs into captivating animations that showcase every exterior detail, from lush greenery to day and night displays. Our artistic renderings provide constructors and builders with a clear vision of the final structure. We welcome global realtors to trust our team of expert architects to bring life into your commercial or residential projects. With our magnificent tall building designs, you'll entice clients and elevate your marketing game to new heights. 
Client Feedback:
"Best 3d architecture animation studio in Lahore. Very professional team."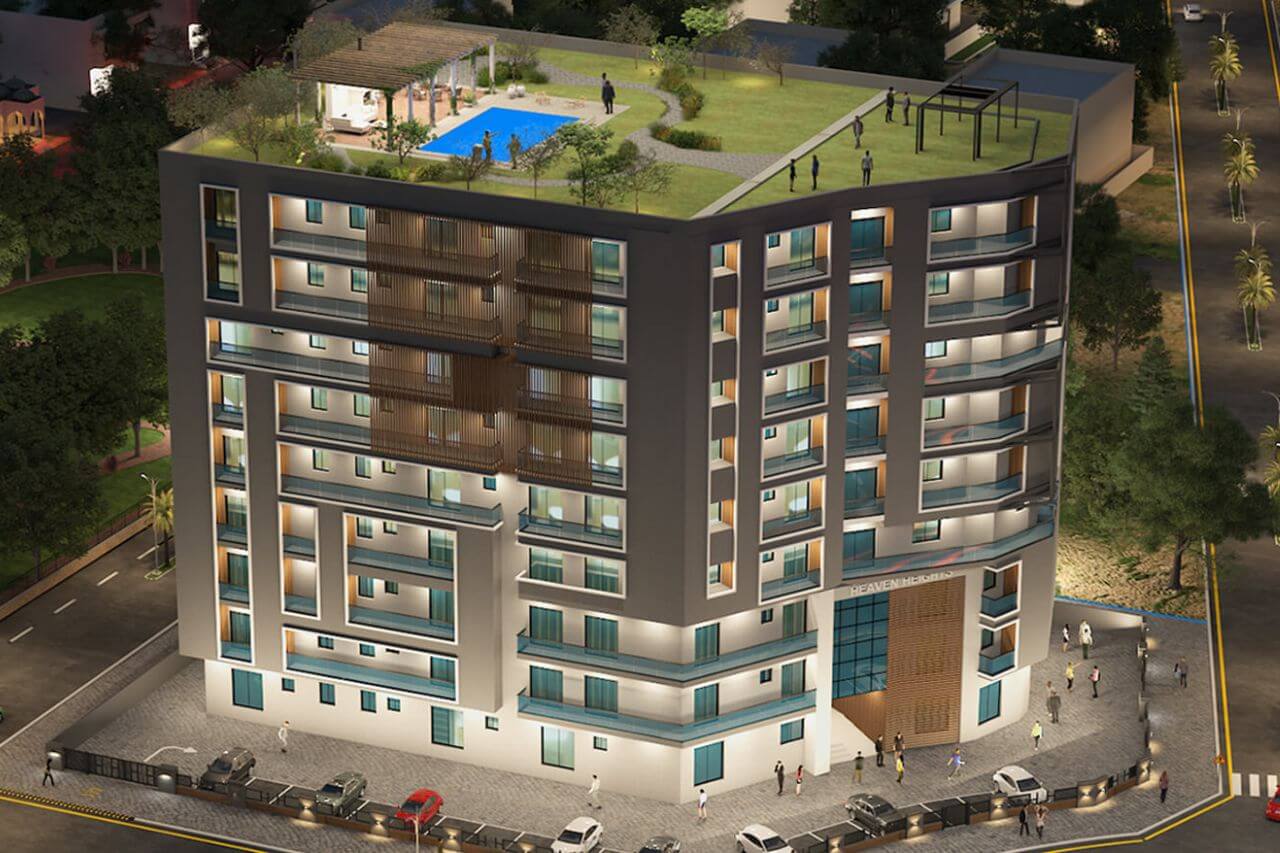 Shiekh Zayed Mosque
We are thrilled to present to you our recent project, the awe-inspiring
Sheikh Zaid Mosque
Animation Display. Through our meticulous craftsmanship and cutting-edge technology, we have created a stunning animation that showcases the magnificent architecture and intricate details of this iconic mosque. As shown, from the grand entrance to the intricate geometric patterns and majestic domes, every element has been meticulously designed and rendered with utmost precision. Immerse yourself in the ethereal beauty of this architectural marvel, and experience the serenity and grandeur of Sheikh Zaid Mosque like never before. Certainly, we take pride in all our successfully delivered projects that managed to create an uproar in the world. 
Client Feedback:
"The most professional 3D visualization studio in Lahore."
Apartment Architectural Walkthrough
Now we welcome you to discover the future of real estate visualization through our innovative platform offering Unreal Engine
Apartment interior architectural walkthroughs
. With stunning realism and interactivity, clients can explore every detail of their dream apartment, from exquisite finishes to spatial configurations. Our platform harnesses the power of Unreal Engine to deliver an immersive experience that brings architectural designs to life. Also, this helps viewers visualize possibilities and embark on a journey that transcends traditional property viewing. It is time you experience the transformative potential of our platform and unlock a new dimension of real estate exploration.
Client Feedback:
"I am satisfied with their 3d rendering and animation services, good experience, and will definitely use their services again soon!"
In Conclusion
ArchStudio stands proud as the best Architectural Animation Studio for numerous reasons. Our unwavering commitment to excellence, coupled with our talented team of architects, designers, and animators, sets us apart. With cutting-edge technology like Unreal Engine, 3dsMax, Lumion, and Autodesk, we create breathtaking and immersive experiences that bring architectural visions to life. Our portfolio of successful projects showcases our ability to deliver photorealistic animations, captivating walkthroughs, and engaging virtual tours. Moreover, our dedication to client satisfaction, attention to detail, and seamless collaboration throughout the process make us the preferred choice for architectural animation needs. 
Trust
ArchStudio
to elevate your architectural designs, captivate your audience, and leave a lasting impact with our exceptional architectural animation services.
Author | Mubashrah Rahim