Modern architecture is the epitome of art and luxury. New trends are on the rise when it comes to designing residential, commercial or other facets of lifestyle. Mainly, current trends in architectural design reflect sustainability, environmental stability and social understanding. Considering the current climate change crisis, environmentalists suggest designing sustainable architectural designs. For that matter, architects and designers work closely to create minimalistic and subtle designs with plantation and wood aesthetics. Although, it is the photorealistic
architectural visualization
and rendering that has altogether changed the face of architecture designing.
Overall, the current trends in
architectural design
have become a norm within the architectural industry. Here's a list of the most followed trends in the real estate industry.
Vertical garden architecture 

Minimalist studio apartment

Relaxing bathroom designs

Wooden interior designs 

Sustainable landscape architecture 
Top Trends in Architectural Design 
Vertical Garden Architecture
If you have ever been to UAE, you must have come across the vertical architecture. It is the modern approach to urban residential architecture. Basically, the unavailability of land directed people towards choosing a sustainable residential housing design. These designs have a rich display of greenery, plantation and vegetation in a vertical dimension. Thus, most real estate developers today emphasize the importance of establishing vertical garden architecture within the city. This is to ensure that people have a breathable environment to relax and rejoice amidst the chaos of city traffic.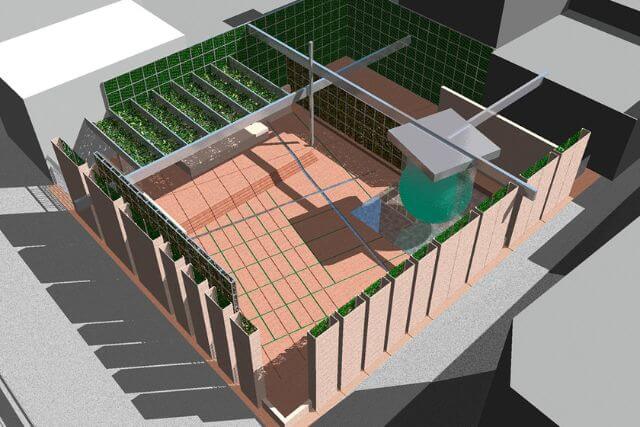 Generally, vertical garden architecture plans aim at:
Purifies air quality

Supports healthy lifestyle

Reduces harmful impacts of global warming

Inner walls help balance humidity

Supports vegetation and farming

Ensures the well-being of residents
Minimalist Studio Apartment 
A studio apartment is basically an open space with usually no wall partitions other than the bathroom. It is a living space for bachelors or couples who wish to keep it minimalistic. Previously, the concept of studio apartments was popular in western countries where the hikes in population urged people to fit in tiny houses. Although now, artists, students and bachelors around the world prefer running a studio apartment. It's a great space to utilize while not having to worry about the tiring construction process. In this square-foot space, architects manage to create a kitchen, living space, guest area, dining space and bed. Other than that, the bathroom is always designed separately with walls.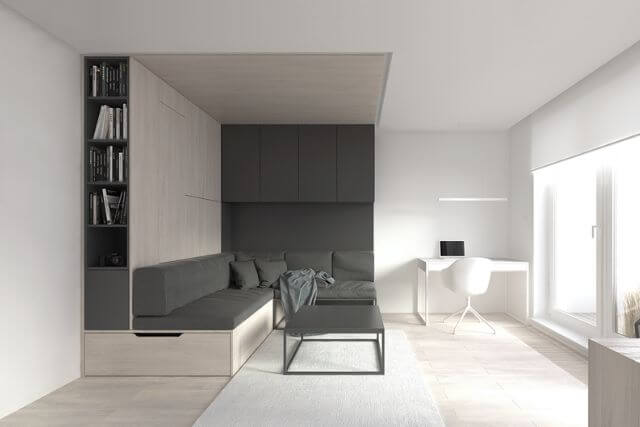 There are some important steps to minimalist studio apartment design that designers around the world now follow. 
Choosing the right furniture while keeping in tune with the aesthetics

Designing a defined space for each living area

Focusing on a single theme that is spread around

Focusing on dividers and lighting of the space

Installing multipurpose equipment and furniture
Alongside this, architects and designers create unique designs with great attention to detail. It is the ultimate futuristic display of the urban lifestyle. The residents use their apartments to relax, rejoice, create art, sleep, cook, work, or engage in other activities. The idea here is to keep things minimalistic. For instance, the space has less furniture, minimal decorative items, lesser equipment and fewer households. 
Relaxing Bathroom Designs
Bathroom space is now considered far more than self-care. It is a space where you relax, unwind and freshen up after a tiring day. Here, you can disconnect from the world and enjoy a relaxing bath. Nowadays, the modern lifestyle puts great importance on bathroom designs. Usually, the bathroom is kept spacious with added plants, woodwork, an artistic roof, and floors. The aesthetics are further enhanced with scented candles, amenities, and aromatic scents. Basically, it is the stone tubs, beautiful tiles and bathroom accessories that elevate the mood of the entire space.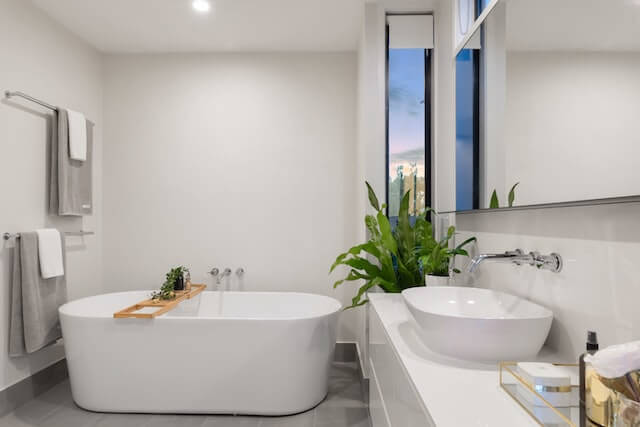 Today, most residential, commercial and hospitality architecture designers focus greatly on relaxing bathroom designs. Also, it is considered a great approach to marketing and selling properties faster. 
Wooden Interior Designs
Wood interior design is one of the most loved trends in architectural design. Wood is the perfect blend in concrete interior finishings. Whether designing a bedroom, living room, kitchen or library, timber is most often used for crafting shelves. Although now, wooden walls, furniture, or ceiling are altogether used to add a hint of nature to the living room. The idea here is to bring a raw look to the interior furnishings in a space that is otherwise crowded space with fancy and luxurious items.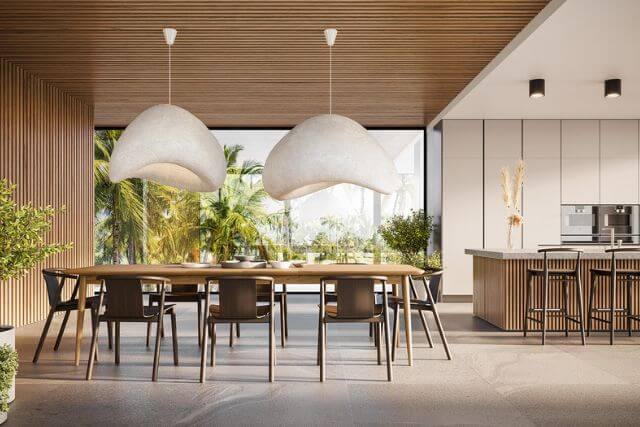 Basically, wooden interior designs are widely appreciated because;
It's strong and durable with long-lasting features

It's easy to install for a DIY or professionals

Wood gives a unique appearance and beautifies the space

It's a sustainable choice compared to other building materials
Wood aesthetics give a delicate and warm appearance to any architecture. Therefore, people prefer wooden interiors for office space, restaurants, halls, living rooms, commercial buildings, hotels, etc. 
Sustainable Landscape Architecture
This trend is no surprise in the era of climate change. With the growing dread of global warming and climate disasters, the real estate industry is more inclined towards prioritizing sustainability. Most of the residential, commercial and industrial sites now focus on landscape architecture alongside constructing tall buildings. It aims to create a lush green environment within the urban facility. Plantations, pathways, fountains, urban drainage systems and scenic views mainly define a sustainable landscape. Basically, the aim is to bring rural culture within the city with parks, playing grounds and presentable greenery. This helps people unwind and relax in an open breathable environment that helps fight pollution.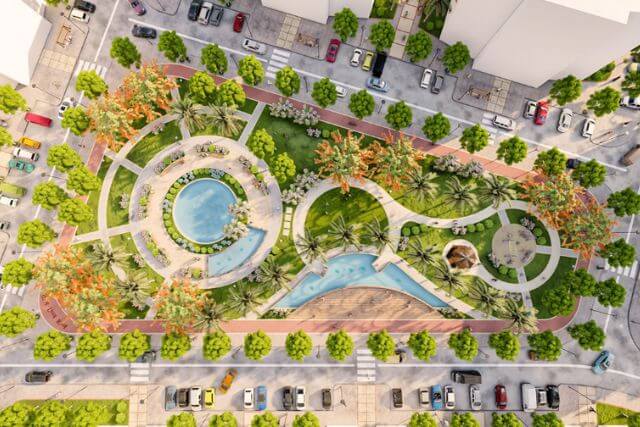 Architects now focus on crafting vast landscapes to offer people a natural environment for recreation. Learn more about
why landscape architecture is important
. 
Final Thoughts
Today, the architectural industry greatly focuses on the trends in architectural design. Following these trends, the realtors manage to convince the buying behaviour of clients or investors. It works well both for property visualization and marketing. On top, advanced architecture visualization and rendering services help display the architectural designs in the best way possible. For instance, our designers use architectural walkthroughs, floorplans, and panoramic views to present architectural displays in real-time. 
ArchXStudio
is known for its unique architecture visualization services. Using the best rendering software, our architects and designers create artistic displays of the property. So get in touch with us today to visualize your dream house, hotel, office space, housing society or other real estate projects.
Author | Mubashrah Rahim