With each passing day, digital technologies in the architectural industry are becoming more advanced. Likewise, the real estate industry follows the latest trends to boost its marketing strategies and sales. From architectural visualization of buildings to 3D architectural animation, real estate is moving way ahead in the future. Rightly so, the competitive real estate market leaves them no choice. Therefore, there arises the need to develop 3D floor plans. It is computer-generated horizontal images of the property with all interior details in place. Through these 3D graphics, clients can view advanced representations of buildings. But, who designs floor plans? It is the skilled architects and designers who put together 3D floor plans for real estate buildings. 
Whether residential, commercial, or industrial real estate marketing, 3D floor plans are the best solution. How exciting is it to display a complete image of what your property would look like? This is not only beneficial for the property owners but also for the clients. So let us first explore 3D floor plans.
What are 3D Floor Plans?
A 3D floor plan is the virtual model of a building's floor plan displayed from an aerial view. It aims to convey architectural plans to the client base interested in investing or purchasing the property. It is a descriptive representation of floors of a single building or an entire property. These renders are a great replacement for black and white 2D floor plans to help comprehend properties and spaces. In fact, through these 3D floor plans, you can uniquely display details of the project, including flooring, cabinets, bathroom details, paint colour, staircase dimensions, wall tiles, and the rest of the interior finishes.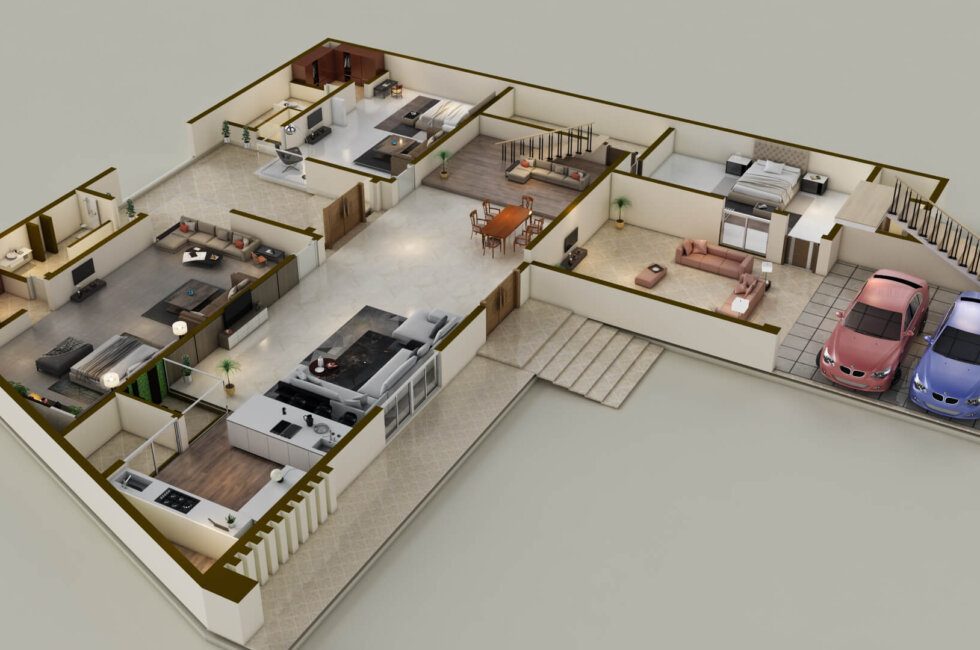 Wondering how much does a 3D floor plan cost? For your business marketing, the role 3D floor plans play is worth the money. You get expert architectural services from top 3D architectural visualization and animation companies. So get 3D floor plans for your real estate property houses starting from $500. 
Still, wondering why are floor plans important in real estate? Let's check several reasons how 3D floor plans help in real estate property marketing. 
Benefits of 3D Floor Plans for Real Estate 
Boost Online Marketing with 3D Floor Plans
3D floor plans enhance the impact of social media posts, landing pages, emails, and mobile applications. It is the era of smartphones. So, targeting the clients right on their screens is what works best for real estate dealers. When you present a complete view of the property with all the details, the prospect stops scrolling and checks the whole 3D floor plans. These floor plans are a quick way to entice prospects and get them to respond to your architectural sense. Likewise, the floor plan renders helps maximize conversion rates by educating the clients about each room or floor playout. A clear display of its dimensions showcases the unique features of the overall property.
Not just that, through online marketing of your residential or commercial property, you target a global client base to sell property overseas. It is mainly about the luxurious lifestyles and futuristic displays that get the prospects to fall for your property. The realtors observe a significant increase in income with a global marketplace. Indeed, this is an effective approach to target foreign buyers who would otherwise not visit websites to check the new properties on sale. However, through these floor plans, even the remote buyers get interested in making visits. 
Thus, it is the perfect tool for online sales. It thoroughly informs the prospects, entertains them and presents the property in the best way possible. In addition, the 3D animations and solutions add the top-notch factor to your buildings or houses. Therefore, real estate rendering is essential to selling your property.
Help Clients Envision Their Future in 3D Floor Plans
Who doesn't like to upgrade? Properties with an old and rough look would not attract families with kids who desire a clean and airy living space. Therefore a bit of finishing, new furnishing and green touch to the overall look of the floor plan would leave an excellent home impression. Trust us when we say this is how you make quick sales. People are more attracted to the visuals, especially to factors they are already looking for in a modern lifestyle. Thus, let architects put on a bit of magic to your property advertisements and help you win maximized leads.
So, how would you make your residential and commercial real estate projects presentable? Get in touch with an expert architectural animation company and get your 3D floor plans all spread out right before you in 24hours of time. All your directions and instructions count while crafting an architectural marvel. When you deliver what your clients have been looking for, you have a clear chance to score the money you desire. Be it house renovation or fresh builds, 3D floor plans for real estate would let you win. 
Elegantly Display Stylish and Functional Features
When marketing your product before a global audience, create a lavish display of your property. Your company's reputation is at stake when real estate projects are all set to make sales. Therefore, you need 3D floor plans to personalize your branding, creating elegant displays of the floor interior such as; its walls, dimensions of stairs and rooms, furnishings, in short, a complete model of the house. You can stylishly display the colours, highlights and textures of the space and residential real estate. These beautiful displays are the product of various tools and features generated by 3D floor plan rendering software. 
In fact, the kitchen floor design, landscape ideas, walls, and rooms present the overall layout of each aspect of the floor plan. It helps your clients visualize their dream space. Additionally, it offers clients an entire property view with all the information and architectural details in place. Again, these 3D floor plans for real estate come in videos, 3D animation graphics, 3D images, and 3D models.
Develop a Market Standard with Expert 3D Floor Plan Services 
There is only one best! So, in order to succeed in real estate, your business needs a robust marketing approach.
3D floor plan services
are a great tool to make you stand out and create a clear difference in the marketplace. You can enhance the layout and dimensions with furniture, landscape and picturesque 3D beautifully staged floor plans. With the rise in 3D floor plans, 2D floor plans are put back for good reasons—likewise, the innovative layout of accurate house model depiction. 
In Conclusion
You can always pick the right track no matter how long you have come with your property marketing. The expert architects of
ArchXStudio
can use your architectural drawings and create remarkable 3D floor plans. In fact, get these photorealistic 3D floor plans and reach global prospects. Your business will score maximized revenues when you get remote audiences to invest in your projects to become the top buyers. Request a free consultation and join our platform to step up your marketing approach. Also, check
why 3D floor plans are better than standard floor plans
.