Architectural visualization has transformed the future of the real estate industry. It is the most important element used to represent the entire aesthetic of a property. Nowadays, a 3D house design speaks for itself, whether through interior rendering or exterior visualization. How does daylight affect your home's interior? Or where should your furniture be placed? Well, 3D architectural visualization has the answer. Get picturesque interior and exterior renders of the house before construction using advanced architectural visualization services.

Today, construction companies are displaying properties to potential buyers in the form of 3D architectural visualization. By displaying the property in 3D designs, you give the customers a better sense of how the property looks. For example, a rendering shows how a building will appear when completed. This approach works best when marketing your property to hunt potential clients.
Reasons to Use 3D Architectural Visualization Services
3D architectural visualization services
help envision buildings way before the construction process begins. It further helps form effective branding strategies. Likewise, 3D house designs give clients the experience of actually walking through their properties. Why not imagine how you would move around in your house or apartment? Every property owner dreams of actually witnessing their building come to life in 3D before actually witnessing the finished product.
Generally, the bedroom size, furnishings, dimensions, depth, flooring, colors with complete interior and exterior detailing help sell the property. These photorealistic depictions of the properties become the basis for realtors to market their properties globally. Similarly, architects can create multiple designs of a single property to convince the clients to design their dream houses however they prefer. Therefore, 3D designing has become the first choice of residential construction businesses. Let us discuss some
hidden benefits of 3D architectural visualization
for real estate and construction companies.
Exceptionally Cost-Effective
Property owners and advertisers resort to 3D rendering services as it helps generate real profit. The precise detailing of the projects allows the property to earn big bucks quickly. In addition, investors get real benefits in terms of gain compared to their actual investments. Thus, real estate developers and constructionists get 3D architectural services to visualize their properties before putting them up for sale.
Effective Marketing Strategy
When your 3D house design delivers the property's interior and exterior vision, investors quickly decide to purchase that particular property. Selling residential housing property can be a tricky business as the customers are to make a considerable investment. Therefore, it is essential to use effective marketing strategies such as 3D architectural visualization. It hooks the home buyers into purchasing their dream property. Moreover, the multiple 3D designs of houses attract investors into a satisfying experience. Therefore, your visualization should feature all the necessities of life for buyers to make a wise decision.
Immersive Experience
Display of the property prior to building showcases how
3D models of buildings are created with architectural visualization
services. You can walk through the whole property as if you were present there. It is the most effective strategy for real estate businesses to make positive sales. Many real estate developers use 3D designs to convince people to make lifetime purchases. Moreover, when the customer can relate to the property, they are convinced to invest their money.
Quick Redesigning
Imagine crafting a 2D design sketch on paper and missing out on some critical details. It would be impossible to make changes or redesign a physical drawing. However, crafting perfect 3D house designs in Pakistan is now possible through architectural visualization. Thus, when developed on a computer, 3D visualization of properties facilitates quick redesigning at any stage of the design process.
Easy Modifications
3D animation helps realtors to make changes to the design in the processing phase. A 3D design can be corrected or edited to reduce mistakes in the final build. In order to create the perfect build, architects correct the house designs according to investors' and real estate agents' instructions. Most importantly, the process enables them to focus on the details and work towards the success of a project.
Architectural Interior and Exterior Renderings in Pakistan
Architectural interior rendering is the best approach to visualize the interior specifications of a property. Expert architects craft immersive 3D interior designs of houses to entice potential buyers. Additionally, the use of lighting, placement of furniture, wall paints, curtains, electronics placements, and floorings are the interior visualizations helping with the marketing of properties to earn profits in sales.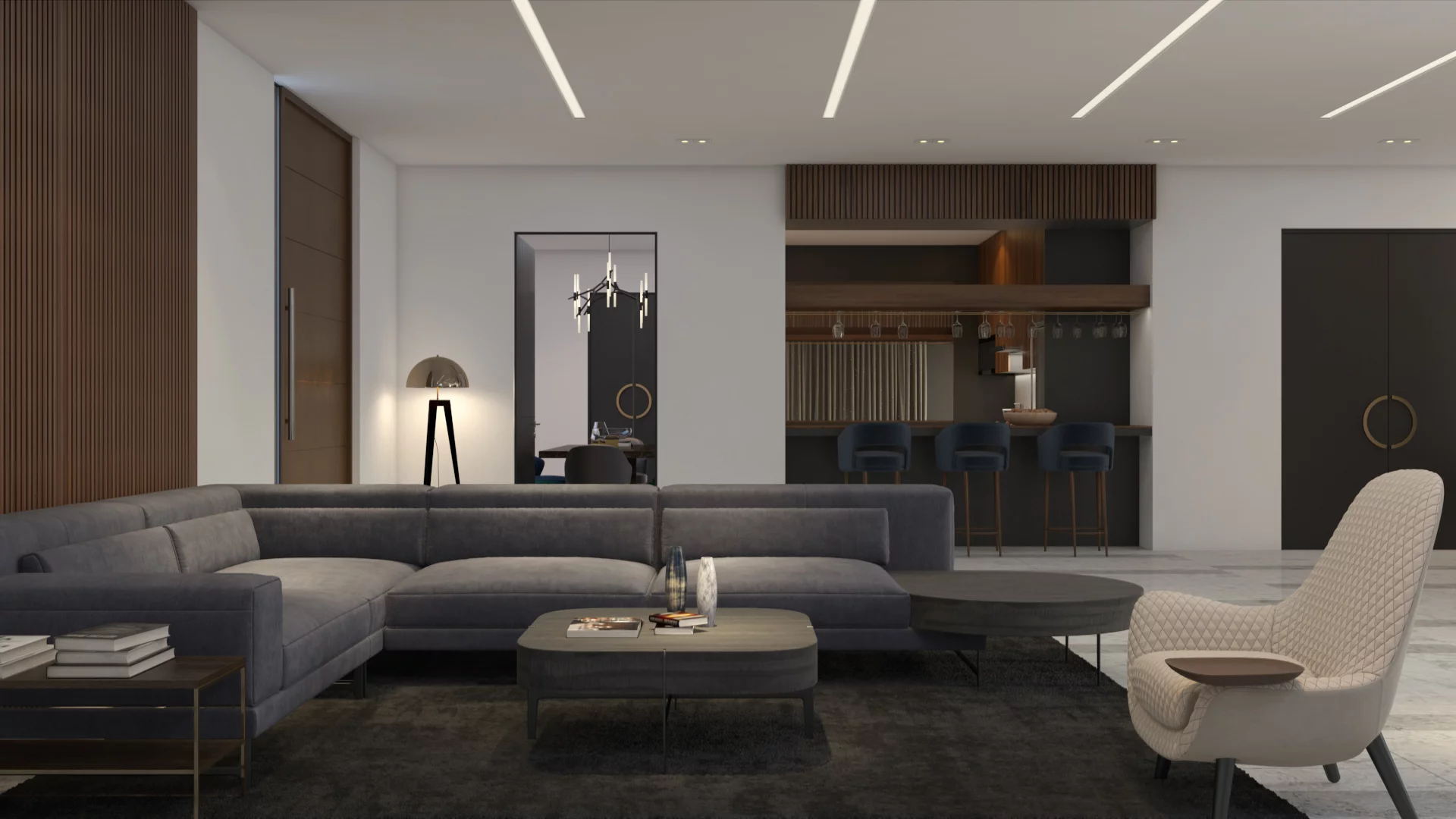 Similarly, the exterior architectural visualization of properties is a great way to showcase the imagination into reality. These photorealistic 3-dimensional drawings allow real estate agents and construction companies to visualize the complete look of buildings. Pakistan has one of the finest architects in creating 3D designs of houses through advanced architectural visualization services.

Why Create 3D Designs of Houses?
Nowadays, the production of 3D residential rendering benefits realtors and the construction companies hoping to win sales. Technological advancements have greatly helped architectural companies worldwide. The rough ideas of your houses are taken up by the architects and transformed into real-time architectural visualizations. Moreover, 3D interior and exterior rendering services, panoramic rendering services, and real-time architectural walkthroughs help architects build a house design with all the minute details. Additionally, stunning architectural masterpieces are built for only one property to display the highest quality work.
Wish to visualize your properties? Add value to your property by creating 3D designs of houses. These 3D house design presentations boost marketing and sales prospects for real estate developers. People now prefer to visualize their property before relying on constructionists. Instead, they take advantage of rendering software, which crafts a realistic final image of the property. Professional architects realize the need for 3D architectural visualization to communicate a project. In the same way, potential customers are persuaded and mesmerized by the visualization of their own living spaces.
In Conclusion
The above mentioned are the reasons why it is essential to create 3D designs of houses through architectural visualizations. The platform of
ArchXStudio
devotes its expert rendering and visualization services for realtors to easily sell their properties. The approach makes the design process faster and easier. The whole 3D visualization experience is enough to convince people into making purchases of their dream properties. Use the expert services of our platform and let our architects craft your dreams to reality.
Author | Mubashrah Rahim